Skin laser treatments, our specialty
What are medical lasers?
Laser is the acronym for the English term Light Amplification by the Stimulated Emission of Radiation. Simply explained, it is a very intense light source of a specific wavelength with a very high energy of an orderly formation which can be accurately aimed at a very small spot.
Thanks to these properties it has been discovered that provided an appropriate pulse duration and energy flux is used, medical lasers can be precisely aimed and used to consciously influence, damage or destroy certain parts of the skin while the surrounding tissues remain intact. The purpose of a laser treatment is, for example, to reach pigment cells or blood vessels without damaging the normal skin structures, in order to achieve a dermatologic or aesthetic improvement of the skin.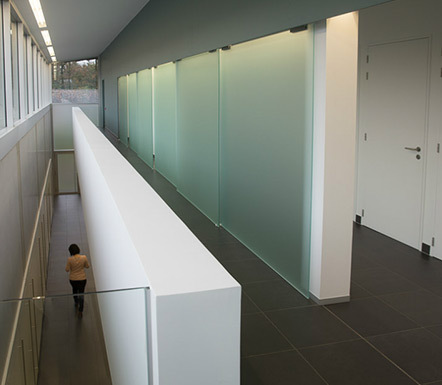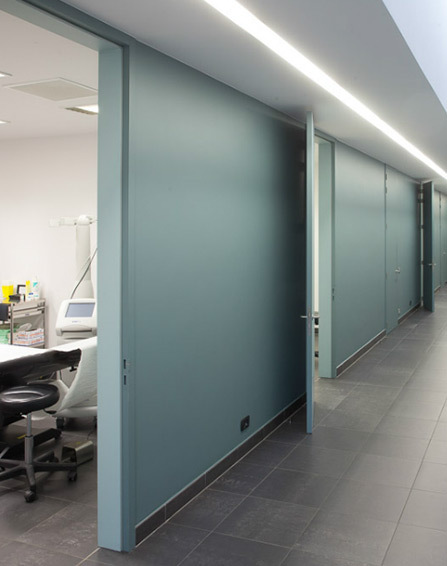 Tried and tested laser equipment with proven effectiveness
Not all skin problems can be treated with one and the same laser. At the Cutaneous Laser Centre, we have several medical lasers, which our dermatologists expertly use in function of the skin disorder so that we can achieve an optimal result.
At the Cutaneous Laser Centre, we always strive to work with the latest and best-performing equipment. However, we never perform experimental treatments. We only buy new devices when their effectiveness has been proven and when they present a substantial improvement in relation to the already existing devices.
More info
The centre
Centre for medical and aesthetic skin laser treatments
The Cutaneous Laser Centre is a medical centre which specializes in both medical and aesthetic dermatology through laser treatments. The CLC was established in 1998 by Dr Bart Crevits. In 2003, the Cutaneous Laser Centre moved to its current location in Aalter, where several experienced dermatologists collaboratively perform various qualitative skin treatments.
At the Cutaneous Laser Centre, we have seven treatment rooms where we can treat the most varied skin problems with a dozen different laser systems. On the first floor, we also perform treatments under general anaesthesia.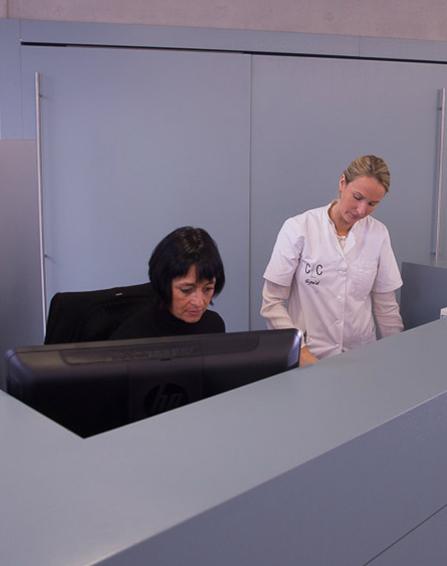 The latest and most efficient equipment
Since the nineties, there has been an enormous evolution with regard to specific laser equipment for treating skin problems. Every year, new devices come on the market which either are an improvement of the existing equipment or can be used for new applications.
At the Cutaneous Laser Centre (CLC), we aspire to have the most efficient system for any skin disorder or any skin problem. In addition to real lasers, for specific applications, we also work with devices based on intense pulsed light (IPL, Intense Pulsed Laser), infrared radiation, radio waves, sound waves (ultrasonic) and deep freezing.
Medical laser skin treatments
Skin problems based on defects of the fine blood vessels, including congenital port-wine naevi, couperose and rosacea on the face, redness on the neck (erythrosiscolli) and fine red to broader bluish red veins in the legs (venectasia)
Congenital or acquired pigmentation on the skin
UltraPulse ablation with the vaporizing laser for all kinds of wart-like or elevated skin lesions, including birthmarks (intradermal naevi), warts (verrucae), cholesterol deposits (xanthelasmata), sweat gland tumours (syringomas), etc. Some precursors and superficial malignant skin lesions can also be treated.
Aesthetic skin treatments
Cosmetic treatments due to disfiguring skin problems are also among our specialties. Aesthetic skin problems can be the result of a skin condition, an accident, or simply because of old age. Often, it is about feeling better about ourselves, and there is nothing wrong with that. The Cutaneous Laser Centre offers a wide range of specialized devices that can be used for a variety of dermatological cosmetic treatments.
Although we can never guarantee with absolute certainty that a skin disorder will disappear completely, we strive to reduce it as much as possible. We always work in consultation with our patients and seek out together what treatment best suits your needs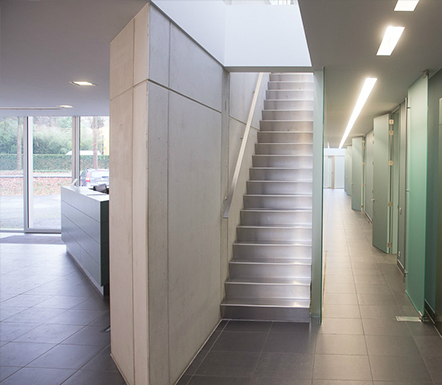 Specialist doctors continuously trained and retrained
By working with the latest equipment, we can also offer the latest treatments. However, no matter how simple some treatments may seem, defining the appropriate wavelength, pulse duration and fluence requires a thorough knowledge of both dermatology and laser physics. With the improper use of such equipment, wounds, scars, pigmentation damage or eye problems can occur. The follow-up and aftercare of skin treatments require the necessary knowledge of healing reactions and, in some cases, we have to give a specific medical prescription.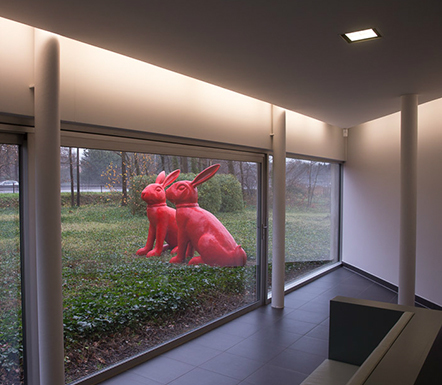 For these reasons, a decision by the Belgian Royal Academy of Medicine unequivocally states that these treatments only belong in a medical practice, under the supervision and responsibility of a physician, and not in a beauty salon.
Therefore, every medical laser requires specific training. Indeed, it is the intention to achieve the best results possible with a minimum number of treatments and negligible risks. The specific training for our treating physicians takes place at the Cutaneous Laser Centre itself. During treatment by your dermatologist, Dr Bart Crevits is always present at the CLC in case theoretical or practical assistance should be required.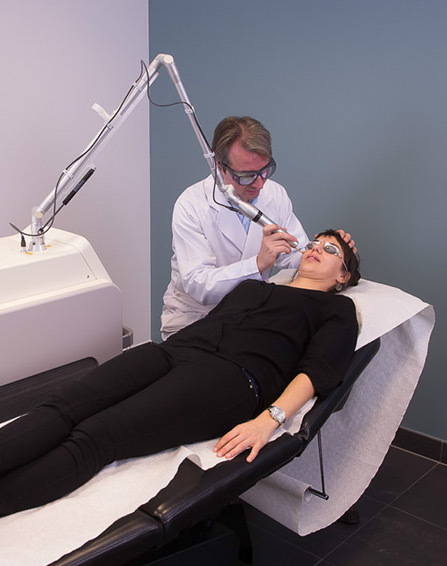 Cutaneous Laser Centre
Dr. Bart Crevits
Ganzeplas 87
B-9880 Aalter
T +32 09 216 67 20
Dermatologists
Dr. De Keyser Eline
1.Venakker 71 A
9880 Aalter
T: 09/3752029
2.AZ Alma Ringlaan 15
9900 Eeklo
T: 09/3100452
Dr. Bostoen Jessica
1.Hundelgemsesteenweg 393
9820 Merelbeke
T: 09/3109544
Dr. Bart Crevits
1.Ganzeplas 87
9880 Aalter
T: 09/2166720
Dr. Myriam Deroo
1.Venakker 71 A
9880 Aalter
T: 09/3752029
Dr. T'Kint
1.Brusselbaan 34
1790 Affligem
T: 053/672555
Dr. Isabel Blockeel
1.Volhardingslaan 72 bus 12
9800 Deinze
T: 09/3861610
Dr. Libuse Matejkova
1.Fazantenstraat 33
9940 Evergem
T: 09/217 08 23 GSM 0476/23 69 64
Dr. Libuse Matejkova
1.Fazantenstraat 33
9940 Evergem
T: 09/217 08 23 GSM 0476/23 69 64
Dr. Stephanie Ryckaert
1.AZ Alma dermatologie Ringlaan 15 blok B gelijkvloer
9900 Eeklo
T: 09/3100452
2.Kalfstraat 8
8300 Knokke-Heist
T: 050/626242
Dr. Libuse Matejkova
1.Fazantenstraat 33
9940 Evergem
T: 09/217 08 23 GSM 0476/23 69 64
Dr. Erwin Suys
1.Handelskaai 1 G
8500 Kortrijk
T: 056/252650
Dr. Johan Bosschaert
1.Rotsestraat 36
8800 Roeselare
T: 051/242945
Dr. Hubert Campaert
1.G. Gezellestraat 32
8790 Waregem
T: 056/60 88 96